The Gathering 2013
The Gathering Ireland – Be part of it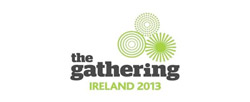 EurOMA 2013 are delighted to be involved in The Gathering Ireland.
The Gathering Ireland 2013 will be a spectacular, year-long celebration of all things Irish.
Throughout 2013, Ireland will open its arms to hundreds of thousands of friends and family from all over the world, calling them home to gatherings in villages, towns and cities. Communities throughout Ireland will showcase and share the very best of Irish culture, tradition, business, sport, fighting spirit and the uniquely Irish sense of fun.
Over 70 million people worldwide claim Irish ancestry. The Gathering Ireland 2013 provides the perfect excuse to reach out to those who have moved away, their relatives, friends and descendants, and invite them home.

If you would like more information on the Gathering Ireland please visit our EurOMA Gathering page
HERE
and get involved! For further information on other Gatherings taking place around the same time as the EurOMA conference please visit
www.thegatheringireland.com
for more information.